Training Center.com: Developing Professional Potentials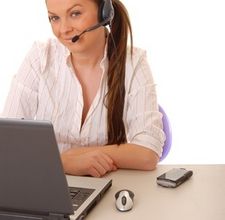 There are thousands of young professionals and unemployed individuals looking for better education that will open doors of employment. However, there are structure programs offered by reputable schools and colleges but the period covering to finish the course as well as the minor courses bundled before completion are just prolonging the agony of the learner-professional. Training Center is an online computer online education site that offers subject areas in information technology and business. Each subject courses can be taken individually or a bundle in a program package. Training Center is open for individuals looking for enhancing skills and knowledge and for companies as part of their training and management program.
Training Center offers diverse collection of courses for the pursuing professional and may be availed in packages for a cheaper fee. Each course contain extensive instructional materials and discussion for better growth. The corporate support offered to large companies training programs is a stand out feature because it takes into account the need for seasoned employees to update their IT knowledge as well as their business tactics.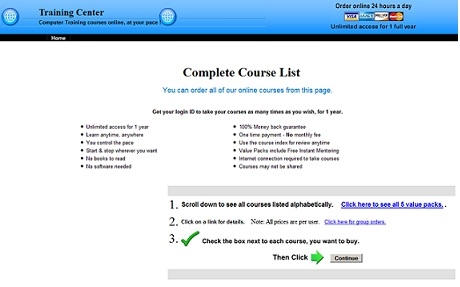 Training Center teaches courses through video playbacks and demonstrations. Students can read materials online and learn by doing exercises available online for students. The topics taught ranges from beginners to advanced concepts, both programming and designing are necessary packages in each courses. The online content materials are handed down to student for access over a one year unlimited access, their online resources are similarly open to the students for quick links to research related tasks. There are eBooks that can be downloaded for home studying, package deals for every age and group of professionals and unlimited support via the online membership log in area.
Training Center requires student to allot a fair amount of time to finish and understand the courses they are enrolled in. Viewing material are integrated to minimize reading and dead class hours. The site uses the latest software in programming and designing hence students are assured that they are learning from the updated versions to compete in the outside world. Training Center offers online tutorial courses that are usually serve and taught in tedious hours inside classroom and algorithms are subjects that needs to be perfected before the IT knowledge can be put to a minimum. In Training Center-*, you will learn the basics without the painstaking hours of understanding how numbers affect the matrix of programming, instead a simpler platform of understanding and studying programming and designing are used for faster learning and better understanding less the time consuming effort to become an average computer literate.