Learn More, Study Less: Holistic Learning Defined
A Study Guide For The Efficient Learner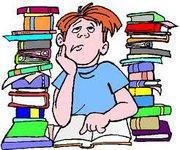 Learn More, Study Less is an eBook released in the internet market to aid struggling students finish their semesters without failing and devise a completely new study guide habits that will result better understanding and learning. The 228-page book, introduces the concept of holistic learning, which is defined as a method of understanding the whole instead of limiting to a few key facts. The goal of holistic learning is to make each idea in the learning process connected to one another to get to a whole output or to see the bigger picture so to speak.
Learn More, Study Less discusses the elemental strategies of holistic learning, as an effective study guide, in the first part of the book as well as the integration into the mental system the process of holistic learning. Without the understanding, the theory of holistic learning the aggregate strategies will be ineffective. Hence, before you start make sure that you are hard wired with the concept. Next is the sequential implementation of the learning process by:
Acquisition of information through the visual and auditory pair.
Putting the information into context
Exploring the available theories and weaving them together
Location and removal of errors in the molded connection.
Application of theoretical presentations to reality.
Getting around the sequence is vital since it will determine the strengths and weaknesses in the learning process of the student candidate.
Study Guide Via Holistic Learning
The second part of the book, speaks about the techniques of holistic learning, it goes into deeper instruction of how to effectively acquire ideas and information from the outside by unfettered reading speed and note taking capacity. The Linking phase is more of the concept mapping of ideas scattered in the brain. Arbitrary handling focuses on the two sides of information and reconciliation should be made as such. The reconciliatory phase and application phase refers to the extension of the theorems in to real time learning and usage.A study guide that benches on what you have and what you are ready to understand.
The Non-Conventional Study Guide For Today's Students
Learn More, Study Less third part is focused on understanding what is beyond the holistic learning. This section deals greatly with the productivity of the learner and his ability to put into contemplation and affect the adapted study guide strategy. At a point the learner is expected to build his own study pattern and hardwire it into is educational agenda for present and future utilization.
Learn More, Study Less is the unconventional approach to sticking information into your head. Put in simpler terms, the holistic learning process is a method that expects an understanding of the entire book and not a detailed information of what can be found in a specific chapter. It helps to prepare and see to it the academics is properly attended to with a functional study guide.